Improving Pennsylvania's competitiveness will expand economic opportunities for our state's residents, workers, families, and businesses. In addition to adopting more business-friendly tax and regulatory policies, permitting reforms are necessary to ensure Pennsylvania can lead the future by building a more modernized public infrastructure system, establishing advanced manufacturing hubs in innovative industries, and continuing to provide the energy and goods needed in a diverse, 21st century economy.
Advocating for change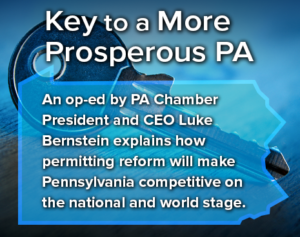 Pennsylvania's current permitting processes are infamously costly, time consuming, and a major detractor to investment and job growth, which is why permitting reform is among the Pennsylvania Chamber's top policy priorities. As PA Chamber Director of Government Affairs Kevin Sunday testified earlier this year during a House Republican Policy Committee hearing, Pennsylvania lost out on numerous investments across various sectors in recent years due to our state's dysfunctional permitting process.
"As noted by the Brookings Institution, we excel at the early stages of research and development across a number of high-value, high-tech industries, but too often have lost out on the full supply chain and manufacturing gains due to our uncompetitive statewide public policies."

"When we lost out on a huge investment in the next generation of steel mills to Arkansas, Gov. Hutchinson crowed that they would be built faster than Pennsylvania could permit them." 
"The state lost out on a major petrochemical expansion in the southeast due to a lack of infrastructure and an associated protracted permitting process. We were not in the running for a semiconductor manufacturer because of site availability. Other manufacturers that produce life-sustaining medicine and consumer goods have reported that our state's process to permitting significantly lowers the likelihood of new investment coming to Pennsylvania as they deliberate internally. Our state's rankings on site selection and best states for business can confirm the same thing." 
Our Solutions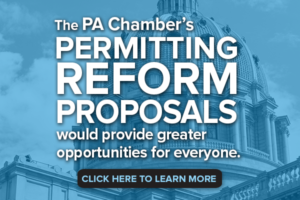 Fortunately, we've laid out a set of comprehensive solutions to reform the permitting process. Together, these reforms address state agency resources, permit deadlines, and updates to the permit appeals process that have long been the crux of employer complaints and will help drive more investment and get more projects permitted and built expediently (and safely!) than ever before.
Leading the Call on Permitting Reform
On May 8, the PA Chamber spearheaded a group of 68 leading business associations and local chambers of commerce in sending a letter to Governor Josh Shapiro and members of the Pennsylvania state legislature, urging them to take decisive action in reforming the state's "dysfunctional and unpredictable permitting system."
"The Commonwealth has too often lost out on investment to other states, and our inadequate permitting system is one key factor," the letter reads. "The current process takes too long, lacks transparency, and costs businesses money and good-paying jobs for our state's workers." "Reform should be built upon the tenets of predictability, transparency, efficiency, and durability," the letter continues. "Now is the time to coalesce around meaningful reforms that will allow our state to truly compete and lead. Doing so will build upon bipartisan momentum at the federal level to streamline permitting and unlock American investment."
The full text of the letter is available here.
Lockstep with Labor
"Business and labor agreeing? This has been a rare sight over the years," PA Chamber President and CEO Luke Bernstein and Pennsylvania State Building & Construction Trades Council President Rob Bair wrote in a joint op-ed in the Reading Eagle calling on state lawmakers to enact permitting reforms that will benefit businesses, employees, and communities.
While the agreement might be rare, the leaders acknowledged the bipartisan support that permitting reform has gained this year as lawmakers ranging from Democratic Gov. Josh Shapiro to the Republican-led Senate have agreed that the current process is broken.
The op-ed outlines several bipartisan steps lawmakers should take to streamline the state's permitting process, including:
– Having permits be "deemed approved" if an agency fails to meet a required deadline;
– Allowing for qualified, third-party reviewers of permit applications;
– Providing certainty to state agencies that their decisions will stand up in court;
– Limiting attorney's fees to combat frivolous lawsuits; and
– Introducing transparency into the process by allowing applicants to see the exact status of their applications. 
Telling Congress to "Permit Us to Build"
Having modern, safe, efficient infrastructure networks aren't just important at the state level. The Pennsylvania Chamber recently joined the U.S. Chamber's national "Permit America to Build" coalition, sending Congress a letter that urges federal lawmakers to enact legislation to modernize permitting processes.
PA Chamber Director of Government Affairs Kevin Sunday also attended the U.S. Chamber's "Permit America to Build" kickoff event, where we showcased how dedicated Pennsylvania businesses are to unlocking investment, unleashing innovation and modernizing our infrastructure!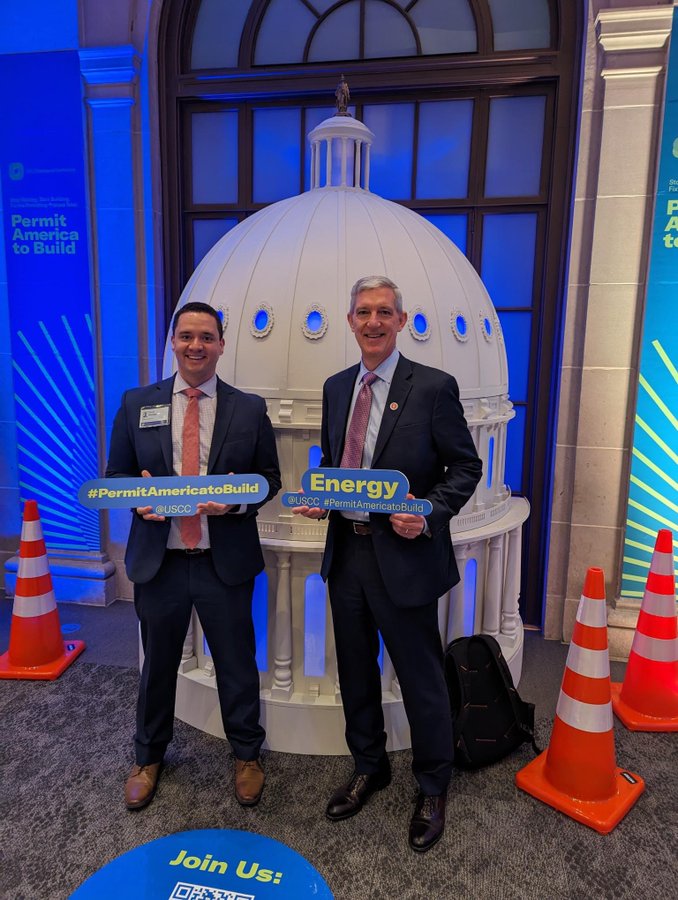 A recent letter in the Reading Eagle echoing the sentiment of the PA Chamber/PA State Building and Construction Trades Council joint op-ed also voiced the need for modernizing the federal permitting process, sharing that energy projects wait an average of 4.5 years for review of their environmental impact statements. "A recent study found at least 10 major energy infrastructure projects, worth more than $34 billion in private spending, were canceled or risked cancellation due to protracted and uncertain permitting processes," wrote American Petroleum Institute Pennsylvania Executive Director Stephanie Catarino Wissman.
"In addition to help from Harrisburg, we need Congress and the president to work together to pass reforms that will benefit working men and women and the dedicated businesses that keep the power flowing and the lights on in our great nation," she wrote.
You can read the full letter here.
Publication: https://www.pachamber.org/advocacy/permitting_reform/
https://www.pachamber.org/advocacy/permitting_reform/