Impact fees from Pennsylvania's shale gas wells are projected to bounce back this year from last year's record low to the highest collection in three years.
A new report from the Independent Fiscal Office credits a surge in natural gas prices for driving impact fees to an estimated $233.8 million for 2021. The total collection is projected to be $87.6 million higher than the previous year, when the pandemic cratered the price of natural gas and the fees paid per well.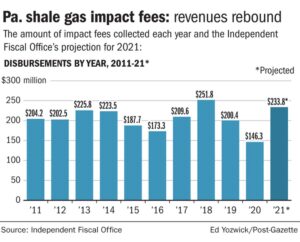 Rising global demand outpaced natural gas supply as economies began to recover from the pandemic last year. The annual average price at Pennsylvania natural gas trading hubs more than doubled in 2021 from the 2020 average to $3.15 per thousand cubic feet, according to the fiscal office.
Those higher prices combined with moderate production growth to nearly quadruple the market value of all of the shale gas produced in Pennsylvania last year to $17.8 billion, the report said.
That means, even though total impact fees will rebound this year, the effective tax rate is estimated to be 1.3%, the lowest on record.
Most gas-producing states tax natural gas based on price and production volumes, but Pennsylvania's impact fees are assessed per well and depend on factors including age, inflation and the average annual price of natural gas on the New York Mercantile Exchange.
The age of Pennsylvania's oldest Marcellus Shale wells is expected to play a bigger role than normal in the total collection. Nearly 3,200 wells reached their 11th year in operation and so will pay roughly half the fee amount paid by wells in their fourth through 10th years, the fiscal office said. That step down in the fee schedule is expected to depress the collection by about $10.4 million.
Impact fees are paid in April for the prior calendar year and distributed in July. They were imposed beginning in 2012 to compensate the state and local communities for the industry's impacts on roads, public services and the environment.
Counties and municipalities that host wells are expected to split $129 million when payments are disbursed, or $53 million more than last year. Impact fee revenue is also dedicated to state environmental, infrastructure, emergency management and housing programs.
Laura Legere: llegere@post-gazette.com.
First Published January 19, 2022, 4:00am
Author: Laura Legere
Publication: Pittsburgh Post-Gazette
https://www.post-gazette.com/business/powersource/2022/01/19/marcellus-shale-impact-fees-Pennsylvania-natural-gas-price-covid-19-pandemic/stories/202201180132